Michigan Farm Bureau Discussion Meets simulate a committee meeting where discussion and active participation are expected from each participant. This competition is evaluated on an exchange of ideas and information on a pre-determined topic. Participants build basic discussion skills, develop a keen understanding of important agricultural issues and explore how groups can pool knowledge to reach consensus and solve problems. 
Michigan Farm Bureau hosts Young Farmer Discussion Meets for 18- to 35-year-old members and Youth and Collegiate Discussion Meets to introduce young leaders to the organization.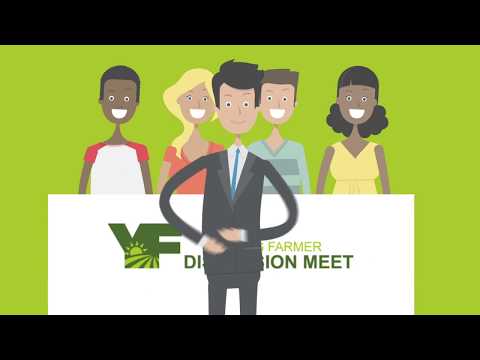 2022 Young Farmer Discussion Meet Information
The 2022 District Discussion Meets have concluded. Please check back early 2023 for next year's dates & locations.
How can Farm Bureau effectively support and equip young farmers and ranchers to successfully manage economic and infrastructure challenges to ensure healthy and sustainable farms and ranches across the country? 

Due to current economic demands, many farmers and ranchers spend a lot of time outside the "fence rows" on off-farm jobs. How can Farm Bureau become more accessible and welcoming to members who are working in related fields and juggling responsibilities on and off the farm? 

Climate has become a major topic among business leaders, policymakers and consumers. As an industry that depends on the weather, what role do we as farmers and ranchers play in shaping climate initiatives to benefit society overall as well as our own farms and ranches?  

Advancements in autonomous equipment and drone technology offer solutions to challenges farmers and ranchers have faced for years. How can Farm Bureau improve access to, and help farmers and ranchers deploy, these emerging technologies on their operations? 

Many external influences are causing supply chain disruption for agricultural goods. How can Farm Bureau reduce the impact of external influences through policy development and programming? 
2022 Collegiate Discussion Meet Information
According to the Food Bank Council of Michigan, currently 15% of Michigan residents and 18% of all children are considered food insecure. What role can high school students play to help combat food insecurity in their communities and throughout Michigan?

Less than 2% of the United States population is directly involved with agriculture. In order to bridge the gap, how can we diversify and be inclusive of non-traditional agriculture and urban communities to engage with agriculture?

How can organizations such as FFA, 4-H, and Farm Bureau work with industry partners to help high school students learn about, gain access to and incorporate emerging technologies into their agriscience programs and individual projects?
2022 High School Discussion Meet Information
If you have any questions about registration or Discussion Meets in general, please contact Katie Eisenberger.
REGION I
Event Date: Nov. 10
Registration Due Date: Nov. 3
Location: Vicksburg
Regional Competition Coordinator: Noreen Heikes 
Counties in Region: Allegan, Barry, Berrien, Branch, Cass, Calhoun, Eaton, Kalamazoo, St. Joseph, and Van Buren
REGION II
Event Date: Nov. 10
Registration Due Date: Nov. 3
Location: Springport
Regional Competition Coordinator: Danielle Martinez 
Counties in Region: Hillsdale, Jackson, Lenawee, Macomb, Monroe, Oakland, Washtenaw, and Wayne
REGION III
Event Date: Nov. 11
Registration Due Date: Nov. 4
Location: Delta College
Regional Competition Coordinator: Haley Cucinello 
Counties in Region: Bay, Gratiot, Huron, Midland, Saginaw, Sanilac, and Tuscola
REGION IV
Event Date: Oct. 1
Registration Due Date: Sept. 23
Location: New Lothrop
Regional Competition Coordinator: John Wyrick
Counties in Region: Clinton, Genesee, Ingham, Lapeer, Livingston, Shiawassee, and St. Clair
REGION V
Event Date: Nov. 9
Registration Due Date: Nov. 2
Location: Cedar Springs
Regional Competition Coordinator: Brent Willett
Counties in Region: Clare, Ionia, Isabella, Kent, Lake, Mason, Mecosta, Montcalm, Muskegon, Newaygo, Oceania, Osceola, and Ottawa
REGION VI
Event Date: Nov. 10
Registration Due Date: Nov. 3
Location: Bay Arenac Career Center
Regional Competition Coordinator: Kathleen Kirkey
Counties in Region:  Alcona, Alger, Alpena, Antrim, Arenac, Baraga, Benzie, Charlevoix, Cheboygan, Chippewa, Crawford, Delta, Dickinson, Emmet, Gladwin, Gogebic, Grand Traverse, Houghton, Iosco, Iron, Kalkaska, Keweenaw, Leelanau, Luce, Mackinac, Manistee, Marquette, Menominee, Missaukee, Montmorency, Ogemaw, Ontonagon, Oscoda, Otsego, Presque Isle, Roscommon, Schoolcraft, and Wexford
Check back later for more updates!
Thank you to our Discussion Meet Sponsors