The farm bill touches all of us. While its primary purpose is assisting farmers, it also supports infrastructure and economic development in rural communities, incentivizes maintenance of good conservation practices, and helps provide access to food for those less fortunate and breakfasts and lunches for school children.
Every five years, Congress must authorize the farm bill. The current bill expires at the end of September 2023. Farm bills include sections, commonly referred to as titles, on commodity programs, trade, rural development, farm credit, conservation, agricultural research, food and nutrition programs, marketing, and more.
The U.S. House and Senate agriculture committees will hold hearings to examine the various titles to get a better understanding of what improvements need to be made in the 2023 Farm Bill.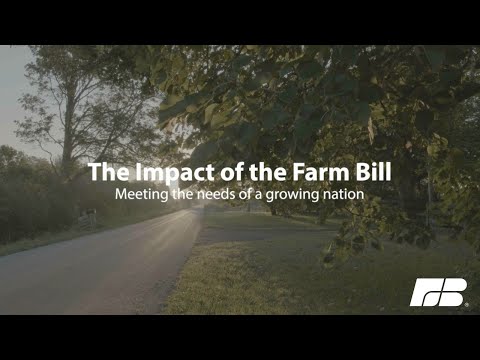 Farm Bureau involvement
MFB appointed a farmer-led task force that held listening sessions this summer to gather input as part of the organization's policy development process. It's critical that farmers take time to share feedback on what's worked well and what needs improvement.
With a new White House administration and different Congressional make-up, there will no doubt be different thoughts and ideas generated regarding traditional and new concepts within the legislation.
For example, with heightened interest in carbon sequestration and climate change, some are suggesting those be incorporated into the conservation title. There is also desire for broader coverage for specialty crops. Additionally, the livestock and dairy industries want changes to price discovery, market manipulation and processing.
Why It Matters
We need Congress to work together on completing the next Farm Bill on time and in a bipartisan fashion to give farmers the long-term certainty needed to make business decisions.

We must protect the farmer safety net, including crop insurance.

Any changes to conservation programs or new policy related to climate must be voluntary in nature and recognize the hard work farmers have already done to protect water quality, minimize soil erosion and care for the environment.
Learn More
Michigan Farm News Farm Bill stories 
AFBF Farm Policy resource page
Contact a Farm Bill Task Force member:
Caleb Stewart, Clinton

Mike Noll, Sanilac

Tim Hood, Van Buren

Caleb Herrygers, Oceana

Duane Smuts, Eaton

Peter Maxwell, Gladwin

Jay Williams, Hillsdale

Dean Reid, Mac-Luce Schoolcraft

Isaiah Wunsch, Northwest Michigan

Doug Darling, MFB Board of Directors
Share Story
Article Tags
Media Contacts
John Kran
National Legislative Counsel
517-679-5336
[email protected]